Mayor Kasim Reed Signs New Marijuana Laws for Atlanta, GA!
Last night was the last and final day the Mayor of Atlanta had to view and either sign or veto the New Marijuana Laws for Atlanta, GA. On Tuesday, 10/11/2018 Mayor Kasim Reed signed into legislation the new laws surrounding how marijuana possession is treated in the City Limits of Atlanta, GA. These new laws, to decriminalize marijuana possession in Atlanta, are a just the beginning of what has been needed for a long time. Kudos to Mayor Kasim Reed, as the Majority of Atlanta's Citizens are with You! This all comes after the unanimous decision of Full City Council to pass the law with a 15-0 vote.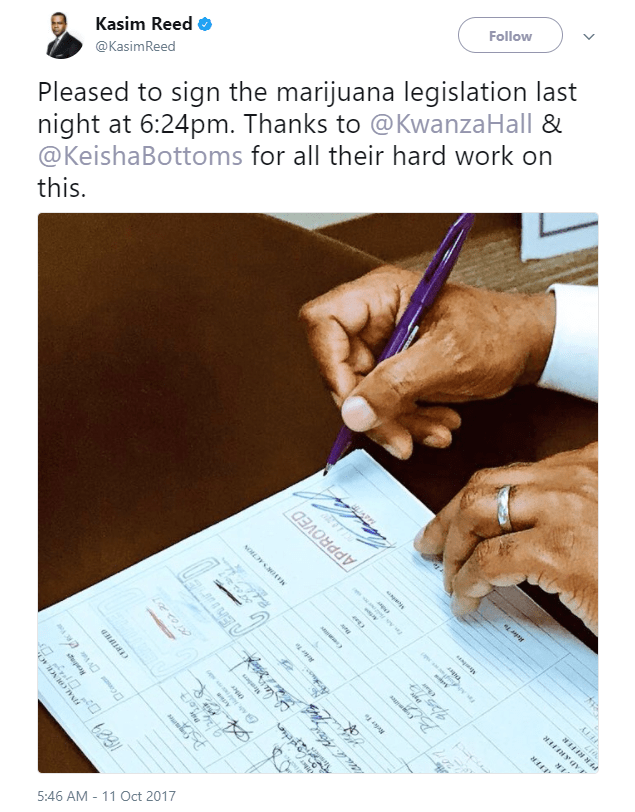 Atlanta Weed Is Not Legal
Just because the Mayor signed these new laws does not mean that Weed is Legal in Atlanta. It's still against the law and you need to know this. What has happened are a few Key Changes in the Laws regarding Marijuana Possession within the City Limits of Atlanta, GA.
Jail Time Has Been Removed – No Longer Will You Face 6 Months in Jail for Possession of 1oz or Less!
The Maximum Fine Has Been Dropped from $1,000 to a Respectable $75!
Any other changes will be pending and let us hope this just paves the way for other cities and counties to adopt the same or an even less strict policy regarding this God Given Plant. If you have not done so already, I would call in, send an e-mail or a hand written letter thanking the Mayor and the Staff that presented this bill to be voted on. Clearly Someone Is Listening!
Marijuana in Atlanta
The passing of this bill marks a new day for marijuana in Atlanta. Throw fear out the window when you posses an ounce or less of cannabis inside the city limits of Atlanta, GA. Rest assured you will not be taken to Jail for carrying your medicine around with you. It truly is a glorious day but please understand that this does not make marijuana, cannabis or weed legal in Atlanta, GA! Be Safe, Be Respectable, Set Examples!
Subscribe via e-mail to get the latest updates.
[email-subscribers namefield="YES" desc=' group="Public"]